Albums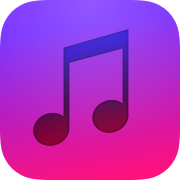 Rediscover your music library with Albums, the ultimate way to listen to all the albums in your Apple Music® collection. Say goodbye to cluttered playlists and hello to a sleek, seamless album listening experience.
We're passionate about music and believe that albums should be celebrated. That's why we've created the simplest, quickest, and most intuitive way to find and play your favorite albums. With just a few taps, add your favorites for easy access and double tap an album to play it.
Buy it now to lock in the current price of $4.99! (Less than half the cost of a digital album? We're practically giving it away!)
Features
Dedicated album listening experience: Immerse yourself in the full album experience without any distractions.
Beautifully crafted user interface: Experience a clean and elegant design focused on your library.
iPad support: See your library on the big(ger) screen with album artwork from edge to shining edge.
Gorgeous now playing screen: Dynamically themed to help you get lost in the album, reminding us of CDs and LPs with front and center artwork and a tracklist nearby.
Uncompromising audio quality: Enjoy your music the way it was meant to be heard with the same high-quality audio playback as Apple Music.
Effortless navigation: Effortlessly navigate through your entire music library with seamless simplicity.
Automatic integration: Say goodbye to manual library syncing by using your existing Apple Music library.
Quick access to your favorites: Your favorite albums are right at your fingertips in the Favorites tab.
Complete customization: Sort your library exactly how you want it and choose between different artwork sizes to fit even more albums on a page.
Pure album focus: Hide partial albums and singles and focus on your complete albums.
Coming Soon
Search: Quickly search for exactly what you're looking for, easily within your thumb's reach.
View missing tracks: If you only have a few tracks from an album and you'd like to see what you're missing, we'll give you that power.
Filter support: In order to help you find exactly the album you're looking for, we're adding support to filter by different attributes (including currently downloaded albums).
Custom queuing: Do you ever find yourself wanting to queue things up by album instead of lists of tracks? We've got you.
Widgets: Display your now playing album artwork or a grid of your favorites on your homescreen.
iCloud syncing: Sync your favorite albums across devices.
Apple Music search: Search for and add albums you don't currently have in your library.
And more... We have tons of other ideas for this app and we want to get them to you as soon as possible.
Not doing it for you?
Totally get it! How you like to browse and listen to your music library is a pretty unique thing. I built Albums primarily for myself, and I use it every day. However, over the years I've run into a few other apps that have different takes on this concept. Definitely give them a look if you're in the market!
The first is Longplay by Adrian Schönig ($3.99), which has a unique interface and cool wacky ways to sort your library. It's colorful and it's a fun look at your collection.
The other one I've seen is the similarly named Albums by Adam Linder (free with an $18.99/year subscription). Admittedly this app doesn't really do it for me, but it's packed with functionality.
Another music app that doesn't focus on albums, but does offer a bunch of customizability and functionality is Marvis by Aditya Rajveer ($8.99 with in-app purchases).
If looking for manual control over the order of your albums, Songpocket by Linus is definitely worth a look.
Is there another indie app I'm missing in this section? Let me know! I don't believe in a one-size-fits-all solution, so I'm more than happy to give album lovers as many choices as possible so they can find what works for them.
One more thing...
This page would not be complete without acknowledging the wonderful Albums app that Louie Mantia and Caleb Thorson released in 2014. I loved using it while it was available and missed it once it was pulled from the store.
I like to think that this app is the spiritual successor to "Albums feat. Louie Mantia Radio Edit".